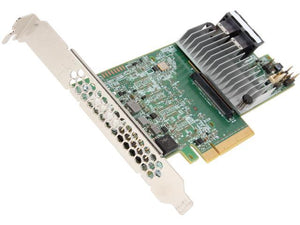 LSI MegaRAID SAS 9361-8i (2G) 12Gbps SAS RAID Controller 2Gb Cache
Note: this is the one with the larger 2Gb Cache option instead of the normal 1GB cache.

Solution Provided Eight-port internal 12 Gb dual core ROC-based SAS solution for data center, cloud, and performance-hungry applications
using up to 128 SAS or SATA devices
Physical Dimensions MD2 low profile (6.6 in. × 2.536 in.)
Connectors Two mini-SAS SFF8643 internal connectors (horizontal mount)
Device Support Up to 128 SAS and/or SATA devices
Host Bus Type x8 lane PCI Express 3.0 compliant
Data Transfer Rates Up to 12 Gb/s per port
I/O Processor/SAS Controller SAS3108 12 Gb/s dual-core ROC
Cache Memory Options • 2 GB 1866 MHz DDH3 SDRAM
Cache Protection: Optional (Purchase separately)
Key RAID Data Protection
Features
• RAID levels 0, 1, 5, and 6
• RAID spans 10, 50, and 60
• Online Capacity Expansion (OCE)
• Online RAID Level Migration (RLM)
• Auto resume after loss of system power during array rebuild or reconstruction (RLM)
• Single controller Multipathing
• Load Balancing
• Configurable stripe size up to 1 MB
• Fast initialization for quick array setup
• Check Consistency for background data integrity
• SSD Support with SSD Guard™ technology
• Patrol read for media scanning and repairing
• 64 logical drive support
• DDF compliant Configuration on Disk (COD)
• S.M.A.R.T. support
• Global and dedicated Hot Spare with Revertible Hot Spare support
– Automatic rebuild
– Enclosure affinity
– Emergency SATA hot spare for SAS arrays
• Enclosure management
– SES (inband)
– SGPIO (sideband)
• Databolt bandwidth optimizer technology support for compatible expander-based enclosures
• Shielded state drive diagnostic technology

MP/N: 03-25420-22001 corresponds to 05-25420-17.
---