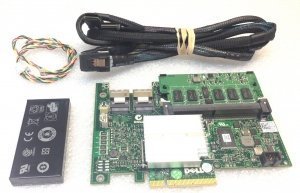 Dell PERC H700 8-Port Internal SAS RAID Controller Card Kit with 1GB Cache, 2x Cables and BBU
Note: Please select battery and mounting bracket options above. If you plan to install this controller in the Internal Storage Slot of your Dell server, please make sure to select No for mounting bracket.
The latest PERC Series-7 Controllers enable a mature 6Gb/s SAS end-to-end solution with better performance capability and increased flexibility and scalability to the Dell 11th Generation PowerEdge Servers, the PowerVault MD3200 & MD3220 Shared SAS Arrays and the MD1200 and MD1220 Expansion Enclosures.
Key Features
PCI-Express Gen2.0 support
6Gb/s SAS (SAS 2.0) host interface
Doubles throughput performance capability
PERC H700 & PERC H800:
Increased IOPS performance with Cut-Through IO & SSDs
Adds support for Self-Encrypting Drives (SED)
Adds 512MB & 1GB Non-Volatile (NV) Cache to to PERC H700 & H800
PERC H800 also offers the following for PowerVault MD1200 and MD1220 enclosures:
Increased Capacity and Scalability - up to 192 drives connected to one PERC H800
Increased Flexibility - connect both 2.5" (MD1220) and 3.5" (MD1200) enclosures to a single PERC H800
PERC H200:
Adds expander support to connect to more than 8 drives
Adds RAID-10 support
6Gbps SAS HBA:
Adds support for MD3200 & MD3220 Share SAS Arrays
Adds support for Tape
---
We Also Recommend
---