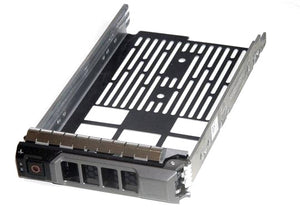 StorageTekPro 0F238F 3.5" Hotswap Tray for Dell PowerEdge R710 T320 T610 T620 T410 R410 R320 R520
Note: This Tray is for Servers with 3.5" drive bays. If your server uses the 2.5" bays instead, please use the G176J 2.5" drive tray instead. For Dell 13th Generation Servers, please use the 0KG1CH 3.5" tray or  8FKXC 2.5" tray instead.
3.5" SAS SATA Hard Drive Tray for Dell PowerEdge R & T series. Replacement P/N: F238F.
-Screws included.

 
Note: This tray is for 3.5" drives. To install a 2.5" drive in this 3.5" tray, select option above to add the 2.5" drive adapter.
Compatible Part Numbers:
0F238F, F238F, X968D, 0X968D, G302D
Works with the following 11th and 12th Generational Dell PowerEdge server that uses 3.5-inch SAS or SATA drives.
PowerEdge R310, R320, R410, R415, R510, R515, R710
PowerEdge R320, R420, R520, R720, R720xd
PowerEdge T310, T410, T610, T710
PowerEdge T320, T420, T620
PowerVault MD1200, MD1400, MD3200, MD3200i, MD3400, MD3600i, 3600f
PowerVault NX200, NX300, NX3000, NX3100, NX3200
*List is by no means complete. Please check picture of tray to see if it is what you have.
---
We Also Recommend
---