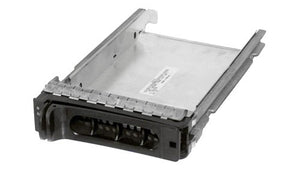 Dell 09D988 9D988 3.5-inch Hot-Swap SCSI Hard Drive Tray for PowerEdge 2850 2800 1850 2600 6600
Dell Hot-Swap SCSI Drive Tray / Caddy for Dell PowerVault and Dell PowerEdge Servers

Compatible with the following Dell part number:

H7206, 9D988, J2169, G2526, M5084, N6747, YC340, WJ038, 128GT, D969D,

For use in the following Dell PowerEdge / PowerVault Servers & NAS Storage systems.
PowerEdge 1600SC, PowerEdge 2600, PowerEdge 2650, PowerEdge 2800, PowerEdge 2850, PowerEdge 4600, PowerEdge 6600, PowerEdge 6650, PowerEdge 8450, 
PowerVault 220s, 755N, 770, 775N

PowerEdge 3250, 6600, 6650, 6800, 6850, 7150, Series Servers; 
PowerVault 221S, 220F, 650F, 660F SCSI Arrays.

Note: The above list is not complete. Check your own Dell server to see if the tray looks like the picture or uses one of the dell part number listed above.
---
We Also Recommend
---