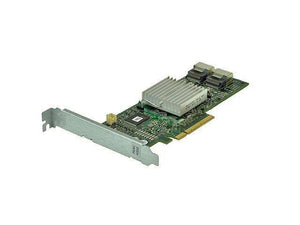 Dell HV52W PERC H310 Adapter PowerEdge 8-Port 6Gb/s SAS RAID Card
Dell PERC H310 Adapter PowerEdge 8-Port 6Gb/s SAS RAID Controller Card. Replaces Perc H200.

Dell Part# 0HV52W / HV52W.

Note: You can use this card in Non-Dell computers.



Dell PowerEdge RAID Controller H310 Adapter

The PERC H310 is a low-cost, green RAID solution for high-density, entry-level servers. An eight-port 6Gb/s PCI Express RAID controller, the Dell PowerEdge RAID Controller (PERC) H310 offers robust data protection, seamless migration, and the flexibility to use both SATA, SAS, and solid-state drives.

Small to medium business owners can enjoy the latest RAID technology at affordable prices and low-power consumption with the Dell™ PowerEdge™ RAID Controller (PERC) H310. Ideal for file, web, database, and email servers, the PERC H310 delivers trusted Dell PERC reliability with minimal maintenance effort.

The PERC H310 is a low-cost, green RAID solution for high-density, entry-level servers.

This entry-level controller cards offer a straight-forward solution that includes essential RAID levels and uncomplicated configuration options. In addition, these cards connect to SATA and SAS hard disk drives and solid state drives, allowing for tiered storage that optimizes cost and performance. Another cost-optimizing feature is physical disk power management (Dimmer Switch™) technology, which manages power consumption for idle, unconfigured and configured drives. Dell's entry-level RAID controllers cover the spectrum of tiered storage requirements for cost-sensitive applications that require robust data protection.

Seamless migration
A unique feature of the PERC H310 is its ability to seamlessly migrate to other PERC product lines. Simply plug in a new controller to recognize and import the existing array without any reconfiguration. Plus, Dell OpenManage™ Storage Services (OMSS) provides a consistent user interface to manage any PowerEdge SATA or SAS arrays.

6Gb/s SAS performance advantage
6Gb/s SAS is designed for backward compatibility with 3Gb/s SAS and 3Gb/s SATA hard drives. Regardless of the drive speed, 6Gb/s PowerEdge RAID controllers deliver significant performance improvements in both read and write applications as compared to their 3Gb/s predecessors.

Simplified storage management
Protect your data using storage management utilities by configuring data-redundancy, assigning hot spares, and rebuilding failed physical disks. Dell OMSS provides enhanced features for configuring and monitoring a system's locally-attached RAID and non-RAID disk storage. With the Storage Management service, you can perform controller and enclosure functions for all supported RAID and non-RAID controllers and enclosures from a single graphical or command-line interface. This intuitive interface of the Dell Lifecycle Controller is the Unified Server Configurator, which is a preinstalled configuration utility that enables storage management tasks from an embedded environment throughout the controller's lifecycle. The wizard-driven interface offers features for novice to advanced users, and the command-line interface is fully-featured and scriptable.

 
---
We Also Recommend
---