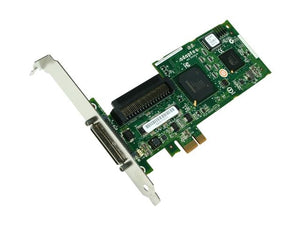 Adaptec 29320LPE PCI-Express Ultra320 SCSI Controller Card.
Adaptec 29320LPE PCIe Ultra320 SCSI
The Adaptec SCSI Card 29320LPE delivers the industry?s first Ultra320 SCSI tape connectivity for PCIe servers with the reliability and stability of a single-channel I/O interface.
This low-profile card protects existing investments through backward compatibility with existing drivers, disks, and tape drives. And, Adaptec Speedflex? capability gives you the unique ability to mix SCSI devices without impacting performance.
The Adaptec 29320LPE is an ideal choice for attaching the most powerful SCSI peripherals to PCIe workstations and servers. Like all Adaptec controllers, it?s built with the expertise of more than 25 years of SCSI leadership.
Highlights
PCIe x1 host connectivity
Compatibility with SCSI and tape hard drives
Ultra320 SCSI single channel
Top performance with Adaptec Speedflex
Supports up to 15 SCSI bus IDs
Automatic termination
Up to 12 meter cable lengths
Low profile
RoHS compliant
Supported Operating Systems
 
Microsoft Windows
SuSE Linux
Red Hat Linux
Novell NetWare
SCO OpenServer
SCO UnixWare
Sun Solaris

For a detailed list see ASK Answer ID 15032
Key Differentiators
 
Industry?s first PCIe x1 Ultra320 SCSI controller that is ideal as a SCSI disk drive and SCSI tape drive connection solution with unparalleled PCIe connectivity and industry standard compatibility.
Customer Needs
 
Connect SCSI devices to a workstation or server with PCIe slots
System Environment
 
x86, AMD64 and EM64T system architectures with PCIe host connections
Form Factor
 
MD2 low-profile
Number of devices
 
Up to 15 SCSI devices
Bus System Interface Type
 
PCIe x1
External Connectors
 
One 68-pin VHDCI
Internal Connectors
 
One 68-pin Ultra320
Data Transfer Rate
 
Up to 320 MByte/sec.
 
Management Ultilities

Adaptec BIOS Configuration Utility

Physical Dimensions

2.54? H x 6.60? L (65mm x 168mm)

Operating Temperature (incl. battery)

0?C to 55?C

Operating Voltage

12V +/-9%, 3.3V +/-9%

MTBF

1,570,000 hours

Regulatory Certification

FCC, C-tick, CE, VCCI
 
Products and Ordering Part Numbers
* Adaptec 29320LPE BULK
Bulk Package 29320LPE Card only.
* Adaptec 29320LPE Retail Kit
 Adaptec 29320LPE Controller with standard bracket
 Replacement low-profile bracket
 One 6-position Ultra320 SCSI LVD cable with terminator (kits only)
Quick Install Guide
CD with drivers and documentation
---
We Also Recommend
---