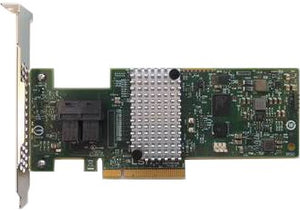 Lenovo ServeRAID M1215 12Gb/s SAS SATA Controller for x3250 M6, x3550 M5, x3650 M5, etc
IBM ServeRAID M1215 SAS/SATA Controller
 Overview
The ServeRAID M1215 SAS/SATA Controller is a low-cost 12 Gbps internal RAID 0/1/10 solution that can be upgraded to a cacheless RAID 5 with a Features on Demand (FoD) license upgrade. The M1215 provides two internal mini-SAS HD connectors with eight lanes of 12 Gbps SAS and eight lanes of PCIe 3.0 to facilitate high data transfer rates.
The M1215 controller is a part of the ServeRAID M Series family that offers a complete server storage solution consisting of RAID controllers, cache/flash modules, energy packs, and software feature upgrades in an ultra-flexible offerings structure.
See here for Lenovo server compatibility
Technical specifications
The ServeRAID M1215 SAS/SATA Controller has the following specifications:
LSI SAS3008 12 Gbps RAID on Chip (ROC) controller
PCI Low Profile, Half-length - MD2 form factor
Eight internal 12 Gbps SAS/SATA ports
Two internal mini-SAS HD connectors (SFF-8643)
Supports 12, 6, and 3 Gbps SAS and 6 and 3 Gbps SATA data transfer rates
Up to 12 Gbps throughput per port
PCI Express 3.0 x8 host interface
Support both RAID and JBOD (pass-thru mode with system drives) configurations
Up to 32 drives, including hot spares, are supported in a RAID configuration.
Up to 64 drives are supported in a JBOD (non-RAID) configuration.
Support for RAID levels 0, 1, and 10 standard; support for RAID 5, 50 with optional upgrade
Zero Controller Cache, no battery/flash backup
Support for SAS and SATA hard disk drives (HDDs) and solid-state drives (SSDs)
Support for simple swap and hot swap drives
Support for intermixing SAS and SATA HDDs and SSDs. Mixing different types of drives in the same array (drive group) not supported.
Optional support for self-encrypting drives (SEDs) with MegaRAID SafeStore
Support for up to 32 virtual drives, up to 32 drive groups, up to 16 virtual drives per one drive group, and up to 32 physical drives per one drive group
Support for virtual drive sizes greater than 2 TB
Fixed stripe size of 64 KB
Compliant with Disk Data Format (DDF) configuration on disk (COD)
S.M.A.R.T. support
MegaRAID Storage Manager management software
---
We Also Recommend
---