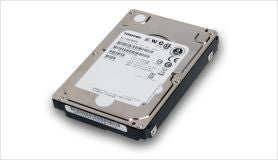 Toshiba AL13SE AL13SEB600 600GB 2.5" Internal Hard Drive. 10K RPM 2.5" SAS
Product Features
2.5 inch Enterprise Hard Disk Drive
Capacity: 300 GB to 900 GB
Rotational Speed: 10,500 RPM
64 MiB Buffer
6 Gbps SAS-2 Interface
Also available in convenient 3.5'' frame: AL13SELxxx
Product info
The new generation Enterprise series of hard disk drives from Toshiba, AL13SEB, has been developed according to the highest reliability and performance requirements for HDD applications in the server environment.
With the AL13SEBxxx, Toshiba Storage Products Division delivers 900GB of capacity in a high-speed drive especially designed for business-critical data. The series operates at 10,500 RPM and distinguishes itself from 3.5.inch form factor competition through superior technical and power consumption specifications.
The 2.5-inch (6.4 cm) enterprise line of HDDs offers a 6GB/s SAS interface and is made for demanding, power-conscious and data-intensive storage applications and allows critical data to be accessed whenever necessary, 24/7.
By utilising an improved head-disk interface proximity sensor, the AL13SEB series boasts a 25 per cent increase in operating reliability rate of two million power-on hours. The series also features increased power efficiency compared to traditional 3.5-inch enterprise storage counterparts.
This new series is also available in a 3.5-inch mounting frame. This SlimFITT version (AL13SEL) is ideal for system architectures accustomed to holding traditionally large form factor enterprise devices.
Model
Functional specifications
Physical specifications
 
AL13SEB300
AL13SEB450
AL13SEB600
AL13SEB900
Formatted storage capacity
300 GByte
450 GByte
600 GByte
900 GByte
Seek time (track to track)

Read: 0.2 ms
Write: 0.22 ms

Seek time (average)

Read: 3.7 ms
Write: 4.1 ms

Seek time (max.)

Read: 7.5 ms
Write: 8.0 ms

Average latency time
2.86 ms
Rotational speed
10,500 rpm
Interface
SAS-2.0 (6 Gbps max.)
Data buffer size
64MiB FIFO ring buffer
Form factor
2.5 inch
Height
15.0 mm
Width
69.85 mm
Depth
100.45 mm
Weight (max.)
240 g
Ambient temperature (operating)
Ambient temperature (non-operating)
Vibration (operating)
0.6 mm (5 to 20Hz) / 20 - 300Hz: 1 G
Vibration (non-operating)
3.1 mm (5 to 20Hz) / 20 - 300Hz: 5 G
Shock (operating)
1 ms: 100 G
Shock (non-operating)
2 ms: 400 G
Acoustics
Ready (typ.): 30 dB
---