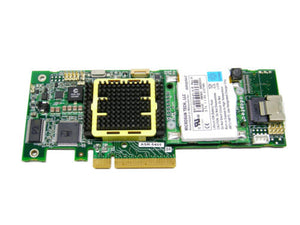 Adaptec ASR-5405 4-Port PCI-Express x8 SAS SATA RAID Controller
DESCRIPTION

THE ADAPTEC RAID 5405 IS EQUIPPED WITH INDUSTRY-LEADING DUAL CORE RAID ON CHIP (ROC), THE LATEST X8 PCI-EXPRESS CONNECTIVITY, AND 256MB OF DDR2 CACHE TO DELIVER OVER 250,000 IO PER SECOND AND 1.2 GB/S. FOUR INTERNAL PORTS IN THIS UNIFIED SERIAL CONTROLLER ALLOW YOU TO CONNECT UP TO 256 SATA/SAS DISK DRIVES THROUGH SAS EXPANDERS. THE ADAPTEC RAID 5405 FEATURES ADAPTEC RAID CODE (ARC) WITH RAID LEVELS 0, 1, 1E, 5, 5EE, 6, 10, 50, 60, JBOD, AS WELL AS COPYBACK HOT SPARE.ADAPTEC STORAGE MANAGER PROVIDES ONE-VIEW CENTRALIZED MANAGEMENT OF ALL YOUR ADAPTEC RAID CONTROLLERS. THE ADAPTEC RAID 5405 ALSO INTEGRATES THE LATEST PCIE CONNECTIVITY, THE BROADEST OPERATING SYSTEM SUPPORT, INCLUDING OPEN SOURCE LINUX DRIVERS, A BATTERY BACKUP OPTION, AND PROVEN COMPATIBILITY.

FEATURES

DEVICE TYPE: STORAGE CONTROLLER (RAID) PLUG-IN CARD LOW PROFILE
INTERFACE TYPE: PCI EXPRESS X8
DIMENSIONS (WXDXH): 16.7 CM X 6.4 CM
CONTROLLER INTERFACE TYPE : SERIAL ATA-300 / SAS
DATA TRANSFER RATE: 300 MBPS
BUFFER SIZE: 256MB
SUPPORTED DEVICES: HARD DRIVE, DISK ARRAY (RAID)
CHANNEL QTY: 4
RAID LEVEL: RAID 0, RAID 1, RAID 5, RAID 6, RAID 10, RAID 50, JBOD, RAID 1E, RAID 5EE, RAID 60



CONDITION : REFURBISHED.
AVAILABILITY: IN STOCK.
OUR WARRANTY: 30 DAYS.
---
We Also Recommend
---