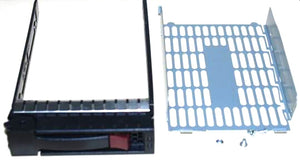 HP 373211-001 373211-002 3.5-inch SAS SATA Tray Caddy for HP Proliant G5 G6 G7 Servers and MSA
HP 3.5" SAS / SATA Hard Drive Tray / Caddy for HP Proliant DL and ML Servers
- Drive Mounting Screws are included -
Corresponds to HP Part Number: 373211-002, 373211-001

Some HP drive options that uses this tray:
349237-B21, 349238-B21, 349239-B21, 454414-001, 454414-001,
461289-001, 454273-001, 432401-001, 389343-001, 454410-001.
This tray is compatible with the following HP proliant servers including G5, G6, and G7 servers that uses 3.5-inch SAS or SATA drives. If your server uses 2.5-inch SFF drives instead, this is not the correct tray. This tray also works for many HP external SAS and Fiber Channel enclosures. The following list is by no means complete. Please take a look at the picture to see if it matches yours.
HP ProLiant DL140 G3
HP ProLiant DL145 G3
HP ProLiant DL320 G4
HP ProLiant DL320s
HP ProLiant DL160 G5
HP ProLiant DL160 G5p
HP ProLiant DL160 G6
HP ProLiant DL160se G6
HP ProLiant DL165 G5
HP ProLiant DL165 G5p
HP ProLiant DL180 G5
HP ProLiant DL180 G6
HP ProLiant DL185 G5
HP ProLiant DL320 G5
HP ProLiant DL320 G5p
HP ProLiant DL320 G6
HP ProLiant DL370 G6
HP ProLiant DL380 G6
HP ProLiant DL385 G5p
HP ProLiant DL385 65
HP ProLiant DL170h G6
HP ProLiant DL2x170h G6
HP ProLiant DL4x170h G6
HP ProLiant ML150 G3
HP ProLiant ML150 G5
HP ProLiant ML150 G6
HP ProLiant ML310 G3
HP ProLiant ML310 G4
HP ProLiant ML310 G5p
HP ProLiant ML330 G6
HP ProLiant ML350 G5
HP ProLiant ML350 G6
HP ProLiant ML370 G6 
All HP ProLiant G7 Servers
---
We Also Recommend
---