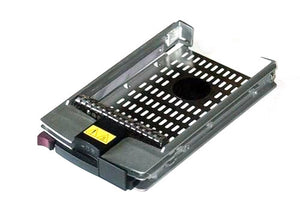 HP 313370-006 3.5-inch Universal SCSI Hard Drive Tray / Caddy.
HP Compaq Universal Hot-Swap SCSI Drive Tray
Designed for all Proliant Servers and Arrays with 1" universal drive cages

Universal - Supports all SCSI hard drives including Ultra2, Ultra160 & Ultra320 speeds
Some of the server and array enclosure supported:
Compaq Proliant Universal Hotswap SCSI Drive Trays work in CL-1850, DL-320, DL-380, DL-580, DL-590/64, DL-760, ML-350, ML-330, ML-350, ML-370, ML-380, ML-530, ML-570, ML-750, PL-8000, PL-8500 servers. 
Proliant 1600, 1850, 3000, 5500, 8000, 8500 Model Servers with Universal Drive cages installed & the 4100, 4300, 4314R, 4314T, 43
54R Drive Arrays.
 Note: Please verify by comparing it with your existing drive tray. If it same, then you can use it, even if the model is not listed here.
---
We Also Recommend
---