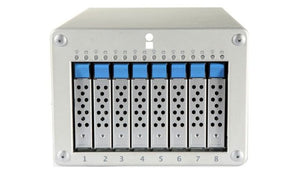 iStoragePro iT8PESA 8-bay Portable 2.5-inch eSATA JBOD
iStoragePro iT8PESA 8-Bay Portable 2.5" eSATA JBOD
Overview
Key Features
Specification
Performance
Photos
iStoragePro 8 Bay Safari 2.5 inch eSATA Port Multiplier Storage JBOD
The portable 8 bay iT8PESA simplifies setup providing cost effectiveness without compromising performance. This system can be used in editing such as Apple Final Cut Pro? and Adobe? Premiere? Pro CS4 video editing software, and is also compatible with video capture cards from AJA, Blackmagic Design, Bluefish444 and Matrox. When used with the PCI-E RAID controller, it can easily be configured as a RAID 0, 1, 5, 10 or JBOD, capaple of providing performance and fault-tolerance necessary to protect your video data.
Up to 4 TB of disk capacity
Two ports eSATA connectors
Eight hot-swappable disk module, 2.5" SATA II / SSD drives
Low noise cooling fan ensures data integrity
Universal power supply: 120-240VAC universal auto switching
Unique design, aluminum enclosure finished
Mac OS X , Windows? & Linux compatible
Standard 3-y ear factory warranty
Video Capture & Playback Supported

2k & 10 bit Uncompressed HD 1080i
8 bit Uncompressed HD 1080i
10 bit Uncompressed SD
8 bit Uncompressed SD
DVCPRO HD, HDV, DV & ProRes

SATA / SSD Compatible

With the same PCB, the iStoragePro Portable 2.5 inch 8 bay eSATA JBOD is compatible with SATA / Solid State Drives. Depending on the different usage, just simply swap the hard drives to meet your configuration.

 

PCI- E Bus Conection

The higher speed of PCI Express also easily handles advanced formats such as full resolution 1080i HD, 720P, HDV and SD video Capture and Playback Mode. Only high speed PCI Express SAS/SATA RAID Card HBA ensures RAID Protection for your Data, Can easily configured as a RAID Level 0,1,5,6,10, capable of providing high performance to support your Video Application
 

Environmental Care

We are committed to protecting the environment and have put it into action by lead-free manufacturing and control of the usage of other materials to implement RoHS-compliant.

 

Unique Laser cut SSD Bezel

iStoragePro is offering the unique laser cut SSD bezel when the system is installed with solid state drives. The SSD configuration provides less fragile, power usage, faster data access, and higher reliability.
Compatible with Popular Video Software & Operating System
The iT8PESA system can be use with the PCI-E RAID controller, providing RAID5 level protection, yet is fast enough for a single 8-drive unit to support multi-track Audio with protools and multi-stream video formats include DV, HDV, DVCPRO HD, ProRes 422 & uncompressed SD playback mode and single-stream 10-bit HD uncompressed, 1080i capture mode. Its speed exceeds 400MB/Sec. iT8PESA system is the best storage solution for digital content creators, digital audio & music production, video post-production, graphic design, digital photography, pre-press, D2D backup, video survilance and game programing. iT8PESA system is equipped with studio-grade low noise cooling system making it adaptable and compatible with any studio control room configuration.
Model Number/td>
iT8PESA7202T
iT8PESA5404T
Capacity
8 X 320 GB (7200 RPM)
8 X 500 GB (5400 RPM)
Number of Disk(s)
8 X 2.5 inch drives
8 X 2.5 inch drives
Disk Interface
3Gb/s SATA II
3Gb/s SATA II
Host Interface
2 X eSATA Port-Multiplier
2 X eSATA Port-Multiplier
Cooling
Low Noise Cooling Fan
Low Noise Cooling Fan
Supported OS
Mac OS X / Windows / Linux
Mac OS X / Windows / Linux
Power Supply
Universal Auto Switching
Universal Auto Switching
Dimension
(L X W X H)
6.5 inch X 11 inch X 4.75 inch
6.5 inch X 11 inch X 4.75 inch
Weight
10 lbs
10 lbs
Warranty
3 Years Limited
3 Years Limited
 Kit contents
1 X Storage Enclosure
1 X A/C Cable
1 X Accessories Box
1 X User Guide
8 X 2.5 inch removable drive modules
1 X eSATA to eSATA Cable
 Qualified RAID Controller Cards/b>
PC
Mac

Addonics - ADSA3GX4R5-EM RAID / JBOD (PCI-X SATA)
Addonics - ADEXC34R5-2E Express Card 34 RAID5 (SATA)
HighPoint - Rocket RAID 2314 (PCI-E SATA RAID)

Addonics - ADSA3GX4R5-EM RAID / JBOD (PCI-X SATA)
Addonics - ADEXC34R5-2E Express Card 34 RAID5 (SATA)
HighPoint - Rocket RAID 2314 (SATA)
Connection Diagram
Solution Diagram
---