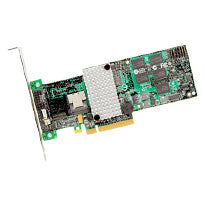 LSI00197 LSI MegaRAID SAS 9260-4i Low-profile MD2 4-Port Int. 6Gb/s PCIe SATA and SAS RAID. SGL.
Note: Search 9260-4i for other options
LSI MegaRAID SAS 9260-4i Low-profile MD2 four-port internal 6Gb/s PCIe SATA and SAS RAID controller
Overview
The four-port MegaRAID® SAS 9260-4i controller provides a new level of performance and data protection for internal storage systems using up to 32 SATA or SAS hard drives or solid state drives. With data transfer rates of up to 6Gb/s per port, the MegaRAID SAS 9260-4i brings users new features and improved performance while continuing to support all the features of the previous 3Gb/s SATA and SAS generation. This value line controller, ideal for cost-sensitive 1U and 2U server applications, employs the latest in RAID-on-Chip technology and complies with the PCI Express® 2.0 specification for high-bandwidth applications.
Features
Four internal SATA+SAS ports 
One mini-SAS SFF-8087 x4 connector
6Gb/s throughput per port
LSISAS2108 RAID-on-Chip (ROC)
o  800MHz PowerPC®
Low-profile MD2 form factor (6.6?? X 2.536??)
x8 PCI Express 2.0 host interface
512MB DDRII cache (800MHz)
Optional battery backup unit (direct attach)
Connect up to 32 SATA and/or SAS devices
RAID levels 0, 1, 5 and 6
RAID spans 10, 50 and 60
Auto-resume on rebuild
Auto-resume on reconstruction
Online Capacity Expansion (OCE)
Online RAID Level Migration (RLM)
SafeStore™ Encryption Services
o  Instant secure erase
SSD support with SSD Guard™
Global and dedicated hot spare with revertible hot spare support
o  Automatic rebuild
o  Enclosure affinity
o  Emergency SATA hot spare for SAS arrays
Single controller multipathing (failover)
I/O load balancing
Comprehensive RAID management suite
Benefits
Superior performance
o  Maximum reads: 2,875MB/s
o  Maximum writes: 1,850MB/s
PCI Express 2.0 provides faster signaling for high-bandwidth applications
Support for 3Gb/s and 6Gb/s SATA and SAS hard drives
SafeStore Encryption Services for more secure data protection
Cost-effective RAID protection for 1U and 2U servers and space-limited storage environments
Package Content:
LSI00197/9264-4i Single
LSI SAS 4 Internal Ports  RAID 0/1/5/50/6  512MB  No Cable With/SoftWare and LP Bracket Box RoHs

LSI00201/9260-4i KIT
LSI SAS 4 Internal Ports  RAID 0/1/5/50/6  512MB  With Cable/SoftWare and LP Bracket KIT RoHs
??
OS Supported
Netware 6.5
Solaris 10 x86
FreeBSD 6.3, 7.0
VMWare 4.x
SCO Openserver 6.0 and Unixware 7.14
Windows 2003 (b4bit and 32bit)
Windows 2008 (64bit and 32bit)
RH3,RH4,RH5
SLES9, SLES10, SLES11 (32bit and 64bit)
Windows Vista (32bit and 64bit)
Windows XP (32bith and 64bit)
See LSI website for latest OS support and driver download
Documentation
---
We Also Recommend
---