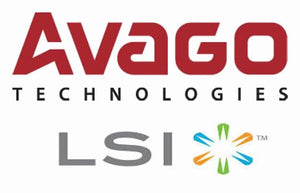 LSI00247 FastPath SW & Key - Advanced Software & Key for SAS 6Gb/s 9260/9280.
Features
Provides high-performance I/O acceleration for SSDs connected to a 6Gb/s MegaRAID SATA+SAS controller
Boosts performance of 2208-based MegaRAID controllers to more than 465,000 IOPS and 2108-based MegaRAID controllers to more than 150,000 IOPS
Accelerates performance up to 3X that of MegaRAID controllers not using FastPath software
Benefits
Supports full optimization of SSD virtual disk groups to deliver up to a 3X improvement in read and write IOPs compared to MegaRAID controllers not utilizing MegaRAID FastPath software
Performance levels reached with this solution are equivalent to those of much costlier Flash-based adapter card solutions
Improves the performance of existing web servers or can provide the same performance with fewer web servers, lowering the total cost of ownership
Specifications
LSI? MegaRAID? Fast Path Software
Software License Ordering PN
LSI00266 - Compatible with MR SAS 9260/9261/9265/9266/9270/9271/9280/9285 /9286series
Physical Key Ordering PN

 
LSI00247 - Compatible with MR SAS 9260 (-4i, -8i, -16i, CV-4i, CV-8i), 9280 (-4i4e, -16i4e, -24i4e)
LSI00289 - Compatible with MR SAS 9265-8i, 9266 (-4i, -8i),9270-8i, 9271(-4i,-8i,-8iCC), 9285 (-8e, CV-8e),9286 (-8e,CV-8e,CV-8eCC)
Supported Operating Systems

 
All supported operating systems
Supported SSDs

 

No restrictions.

Please visit www.lsi.com/channel/support/marketing_resources for a complete list of tested SSDs.
---
We Also Recommend
---