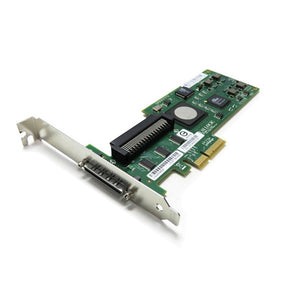 LSI00154 LSI Logic LSI20320IE PCI-Express Single Channel Ultra320 SCSI Controller. OEM. Card Only.
LSI20320IE PCI Express Ultra320 SCSI Single-Channel Host Bus Adapter
LSI PCI Express host bus adapters provide high-availability, scalability, and are compatible with the newest workstations and servers. The LSI20320IE adapter features internal and external Ultra320 SCSI channels that allow data transfer rates of 320MB/s. Supporting up to 15 devices for a flexible, fault-tolerant solution, this adapter is ideal for entry-level to enterprise servers and high-performance workstations with PCI Express slots.
The LSI20320IE delivers the speed and bandwidth required by today's data intensive storage applications, such as data mining, internet, email, graphics, audio editing, database servers, scientific simulation and video streaming. It is ideal for connecting to tape drives and libraries for back-up, disk drives, JBODs, RAID arrays and other SCSI peripherals.
Features
Ultra320 SCSI
PCI Express x4 lanes
Low-profile MD-2 small form-factor design
Fusion-MPTTM architecture
Allows up to 15 internal or external physical devices
SureLINKTM domain validation optimizes device connections
Supports all major Operating Systems
Benefits
320MB/s data transfer rates
High-bandwidth serial PCI Express host interface (2.0 GB/s full-duplex)
Ideal for 1U/2U rack servers
Thinner divers improve performance (up to 100,000 I/Os per sec)
Outstanding flexibility for Ultra320 & legacy device connectivity
Exceptional data reliability and signal quality
---
We Also Recommend
---