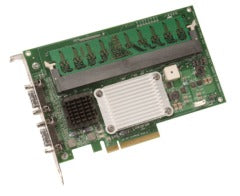 LSI Logic MegaRAID SAS 8480E 3Gb/s 8-Port External (2x SFF-8470) PCI-Express SAS RAID Controller
LSI MegaRAID SAS 8480E
3Gb/s Eight-Port External SAS RAID Adapter
Overview
The MegaRAID SAS 8480E features two x4 external SAS connectors for high-performance external storage connectivity. When used with SAS expanders, the MegaRAID SAS 8480E can support up to 255 SAS or SATA II disk drives, making it an ideal solution for enterprise-class storage applications that call for maximum configuration flexibility. Using a high-performance Intel? I/O processor for optimum RAID performance and a PCI Express host interface for increased bandwidth, the MegaRAID SAS 8480E delivers an intelligent and robust RAID solution. In addition, this adapter supports 256MB DDRII SDRAM for data caching and an intelligent transportable battery backup (iTBBU) that protects cached data for up to 72 hours in the event of a complete power failure.
Features
Eight external SAS/SATA ports

Two SAS SFF8470 x4 external connectors

3 Gb/s throughput per port full duplex
RAID Levels 0, 1, 5, 6*, 10, 50 and 60*
Greater than 2TB array support
Intel? IOP333 I/O Processor
PCI Express 1.0a compliant

2.5 Gb/s per lane
x8 lane width

Ships with 256MB DDRII 400MHz SDRAM DIMM module
iTBBU support
Advanced data integrity and recovery
Enhanced error handling and reporting
FlexRAID?:

Online Capacity Expansion (OCE)
Online RAID Level Migration (RLM)

Comprehensive management and configuration utilities
Full SAS expander support (32 disk support)
Benefits
Maximum drive flexibility for using both SAS and SATA II drives
PCI Express host interface for increased bandwidth
SAS built on proven MegaRAID stack
RAID 6 ready for greater data protection
Advanced RAID management suite
Products and Ordering Part Numbers
LSI MegaRAID SAS 8480E BULK

Bulk pack LSI 8480E card only.
LSI MegaRAID SAS 8480E Retail Box

Individually packaged box with LSI 8480E HBA, CD containing drivers,  and quick installation guide
Part Number: LSI00049
---