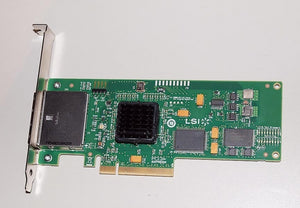 LSI SAS 3801E External 8-Port (2x SFF-8088) PCI-E 3GB/s Mini SAS Host Bus Adapter. Card Only
Note: This have 1-week leadtime.
LSISAS3801E
PCI Express, 3GB/s, 8-port SAS (mini-SAS connectors)
The LSI SAS3801E card enables large-scale direct attach storage (DAS) arrays through eight external 3 Gb/s mini-SAS ports, driving up to 122 SAS and SATA devices. The host bus adapter drives external server storage RAID and non-RAID enclosures with unprecedented throughput by connecting an eight-lane 2.5 Gb/s PCI Express bus with two external x4 SFF-8088 mini-SAS connectors. Utilizing the SFF-8088 connectors allows the SAS3801E to fit into a low-profile adapter, perfect for 2U servers driving 4800 MB/s full-duplex externally.
Features
3 Gb/s per port
(2) x4 external SFF-8088 mini-SAS connectors
8-lane, 2.5 Gb/s PCI Express
MD-2 small form-factor design
Connects to SAS and SATA HDDs and tape drives
Allows more than 122 total end-point devices
Fusion-MPT architecture provides more than 140,000 I/Os per second
Supports all major operating systems
Benefits
Flexible SAS/SATA array architecture optimizes cost
(8) external high-speed SAS ports for maximum mass-storage connectivity
3 Gb/s per port delivers 2400 MB/s to external enclosures
SAS/SATA interconnect proven through the LSI robust serial technology
OS Supported:
Microsoft Windows 2000, Server 2003 32bit (x86 and AMD64), XP
Red Hat Linux RHEL 3
Novell NetWare
SuSE Linux / SLES
Sun SPARC Solaris 2.6 thru 2.10
Check LSI website for latest OS support.
Products and Ordering Part Numbers
LSI SAS3801E Retail ? PCI Express, 3 Gb/s, 8-port, SAS

Individually packaged box with LSI SAS3801E HBA, Low-profile bracket, Driver CD, and Quick Installation Guide
Part Number: LSI00138



LSI SAS3801E Bulk Pack ? PCI Express, 3 Gb/s, 8-port

Bulk pack containing LSI SAS3801E HBA.
---
We Also Recommend
---