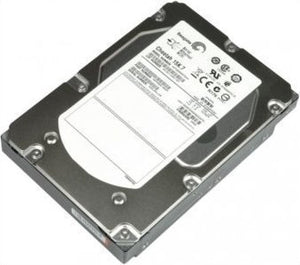 Seagate ST3600057SS Cheetah 15K.7 600GB 3.5" SAS 6 Gbps Hard Drive. Seagate Recertified.
Seagate ST3600057SS Cheetah 15K.7 SAS 6-Gb/s 600-GB Hard Drive. Green label.
Application Specifications Documentations
Overview
The higher performance and capacity of Seagate Cheetah 15K.7 drives reduce storage costs per GB and increase capacity per watt. The drive has the industry?s highest reliability rating, reducing drive replacement costs. The Cheetah 15K.7 drive includes Seagate PowerTrim? technology, which dynamically optimizes drive power consumption at all levels of activity.
Key Features and Benefits
Highest-performance 3.5-inch Tier 1 drive
Highest-capacity Tier 1 drive (600 GB)
Highest reliability rating in the industry
Seagate PowerTrim technology dynamically reduces power usage.
Supports 6-Gb/s SAS 2.0 and 4-Gb/s FC
Additional information about the Cheetah 15K.7 is available on the Product Overview below.
The Seagate? Cheetah? 15K.7 is the highest performing, highest capacity 3.5-inch mission critical hard drive with best-in-class reliability for Tier 1 storage environments. This industry-leading enterprise drive reduces storage costs per GB while increasing capacity per watt. Drive power consumption is dynamically optimized at all levels of activity with Seagate?s exclusive PowerTrim technology.
Key Advantages
Third-generation perpendicular recording for maximum capacity.
Unprecedented performance with a 16 percent increase in sustained data rate over the last generation, up to 171 MB/sec.
Industry?s highest 3.5-inch drive reliability at 1.6-million-hours MTBF.
Seagate proprietary PowerTrim technology provides up to 21 percent improvement over the last generation in watts/GB at idle.
Advanced read/write technology delivers unrecoverable error rate of 1x10E16 and AFR of 0.55 percent
Available in 4Gb/s FC or 6Gb/s SAS interfaces
Best-Fit Applications
All mainstream enterprise applications, such as:
Email
Business processing
Transaction processing
Decision support
Storage area networks
Networked attached storage
Internet and e-commerce
Cheetah 15K.7 SAS 6-Gb/s 600-GB Hard Drive
ST3600057SS
| Specifications |   |
| --- | --- |
| Model Number | ST3600057SS |
| Interface | SAS 2.0 6.0Gb/s |
| Cache | 16MB |
| Capacity | 600 GB |
| Areal density (avg) | 225 Gbits/inch2 |
| Guaranteed Sectors | 1,172,123,568 |
| PHYSICAL |   |
| Height (max) | 26.10 mm (1.028 inches) |
| Width (max) | 101.85 mm (4.010 inches) |
| Length (max) | 146.99 mm (5.787 inches) |
| Weight (typical) | 800 grams (1.76 pounds) |
| PERFORMANCE |   |
| Spindle Speed | 15,000 rpm |
| Average latency | 2.0 msec |
| Random read seek time | 3.4 msec |
| Random write seek time | 3.9 msec |
| RELIABILITY |   |
| MTBF | 1,600,000 hours |
| Annual Failure Rate | 0.55% |
| POWER |   |
| Maximum start current, AC | 3.88 amps |
| Maximum start current, DC | 1.91 amps |
---