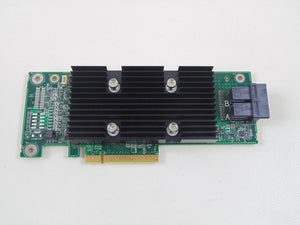 4Y5H1 Dell PowerEdge RAID Controller PERC H330 PCIE 12Gb/s SAS Supports T130 T330 T430 T630 R230 R330 R930
04Y5H1 / 4Y5H1 Dell PowerEdge RAID Controller H330 PERC H330 PCIE 12Gb/s SAS  
Eight-port 12Gbps PCI Express RAID controller supporting 3Gbps, 6Gbps and 12Gbps SAS, and 3Gbps and 6Gb/s SATA hard-disk or solid-state drives.  

Small to medium business owners can enjoy the  
latest RAID technology at affordable prices and low
power consumption with the Dell PowerEdge RAID
Controller (PERC) H330. Ideal for file, web, database
and email servers, the PERC H330 delivers trusted
Dell PERC reliability with minimal maintenance effort.
The PERC H330 entry-level controller card offers a  
straightforward solution that includes essential
RAID levels and support for non-RAID (pass-
through) configuration options. In addition, the
card connects to SATA and SAS hard disk drives,
and solid state drives, allowing for tiered storage
that optimizes cost and performance. Physical disk
power management (Dimmer Switch™) technology
provides additional cost savings by managing power
consumption for idle, unconfigured and configured
drives. Dell's entry-level RAID controllers cover
the spectrum of tiered storage requirements for
cost-sensitive applications that require robust data
protection.
12Gbps SAS performance advantage
12Gbps SAS is designed for backward compatibility
with 6Gbps SAS and 6Gbps SATA hard drives.
Regardless of drive speed, 12Gbps PowerEdge
RAID controllers deliver significant performance
improvements in both read and write applications
compared to their 6Gbps predecessors.
Intuitive RAID management
Managing the PERC H330 is easy using the
integrated Dell Remote Access Controller (iDRAC)
with Lifecycle Controller. Without having to deploy
an agent, IT admins can configure, deploy, update
and monitor the PERC H330 via the GUI or through
Dell's CLI (known as RACADM). Additionally, Dell's
one-to-many OpenManage ™ 
Essentials console
allows a user to perform storage operations across
multiple servers, including RAID controllers as well
as physical disks in the PowerEdge system and
external enclosures.  
Server Compatibility:  
Dell PowerEdge R230
Dell PowerEdge R330  
Dell PowerEdge R930
Dell PowerEdge T130
Dell PowerEdge T330
Dell PowerEdge T430
Dell PowerEdge T630
---
We Also Recommend
---