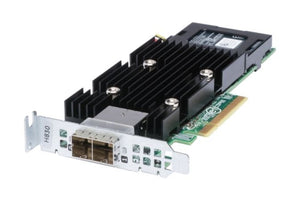 Dell PERC H830 12Gb/s SAS 8-Port External PowerEdge RAID Card. Low Profile Bracket.
Dell PowerEdge RAID Controller H830
Eight-port external 12Gbps SAS solution for performance-hungry external storage environments supporting up to 255 SAS hard-disk or solid-state drives.
• Eight external ports
• 72-bit DDR3 interface drives
• 2GB non-volatile cache memory
• Unsurpassed performance and enterprise-class reliability
As storage demands expand and processing loads
grow, it becomes increasingly more difficult for
administrators to achieve maximum performance from
their applications. The newest line of Dell PowerEdge
RAID Controller cards, built on the LSI SAS 3108 dual-core PowerPC
RAID-on-Chip (ROC), offers unmatched I/O performance for database applications and streaming digital media environments.
The PowerEdge RAID Controller (PERC) H830, with
eight external ports, delivers two PowerPC processor
cores and a 72-bit DDR3 interface that drives 2GB
cache memory. This controller is ideal for configuring
external storage enclosures with high-performance
SAS hard drives and application-accelerating solid state
drives. The PERC H830 exploits the potential of 12Gbps
SAS SSDs for unsurpassed performance and enterprise-
class reliability.
Enterprise data protection
Standard support for the most popular RAID levels,
including RAID 5, RAID 6 and NV Cache, further
strengthen the data protection capabilities of the PERC
H830. NV Cache technology allows protection of the
cache for a nearly unlimited period of time. The H830
also supports non-RAID mode (pass-through) for
applications that manage the storage independently.
Sophisticated DAS topologies
The PERC H830 can easily be connected and deployed
within new 12Gbps SAS switch environments to
further simplify direct attached storage (DAS) scale
management and reduce single point of failures
common in expanded DAS environments. The
PERC H830 is unique in that it offers higher levels of
connectivity, simplified management and features and
benefits typically available only in higher-end storage
network configurations. 
Intuitive RAID management
Managing the PERC H830 is easy using the
integrated Dell Remote Access Controller (iDRAC)
with Lifecycle Controller. Without having to deploy
an agent, IT admins can configure, deploy, update,
and monitor the PERC H830, via the GUI or through
Dell's CLI known as RACADM. Additionally, Dell's
one-to-many OpenManage Essentials console
allows a user to perform storage operations across
multiple servers, including RAID controllers as well
as the physical disks in the PowerEdge system and
external enclosures.
Benefits include:
iDRAC automatically creates and executes jobs
for each storage configuration operation
Customer can reboot the host OS automatically
or schedule reboot for a later date.
PERC H830 supports real-time RAID monitoring
and hardware inventory
iDRAC incorporates Dell OpenManage Storage Services
(OMSS) which provides the tools to efficiently manage
PERC products, including a pre-boot setup utility and
a full spectrum of online RAID management utilities.
This suite of applications allows administrators to adjust
SAS or SATA topology views from the system host
down to the logical and physical drive level. Extending
to enterprise deployments, these tools can scale to
easily configure, monitor and manage RAID and JBOD
volumes locally or over the LAN network.
---
We Also Recommend
---